So Halloween is approaching with its spider webs and candy corns and things that jump out from behind the bushes. Although my own kids have gotten older, they still bristle happily at the idea of getting scared, dressing up, and (of course) consuming as much candy as they possibly can without breaking out into a zit minefield or feeling so nauseous that that don't even want to hear the word chocolate for weeks. I can think back to the years when the kids dressed as tigers and firefighters and ballerinas and we wheeled them around the block, exhausted. Now they're off on their own, armed with pillowcases and wearing half-costumes if they get dressed up at all. I myself have dressed up from time to time with a wig, makeup or this monstrously over-sized Dracula cape that covers me from head-to-toe. Since we have three kids, I wanted ALWAYS to dress them as three blind mice or three little pigs, but that never panned out. We've been all kinds of witch, ghost, punk, pink, Star Wars character, headless horseman, Puffle, rock star, dinosaur, Cleopatra, and of course, Harry Potter. And this year, my youngest son insisted on Stranger Things: he's dressing as Steve Harrington, complete with wig and Members Only jacket. His best pal is accompanying him as Dustin. Both will have white buckets, yellow gloves, and a hankering for Demigorgon-sightings, I presume.
The show Stranger Things has set off a wave of 80s nostalgia in our home, capped off by this fitting costume choice. (I mean: MEMBERS ONLY jacket?! Are you joking?) And it's weird mostly because it makes me realize that time has tripped backwards over itself. It's as if I'm back trick-or-treating myself, same clothes, same desperate search for candy and monsters. Some things really never change. It's totally deja-vu all over again.
Monster-hunting has been a secret love of mine since I was much younger. I yearned for Saturdays when the TV channel would broadcast those old, terribly c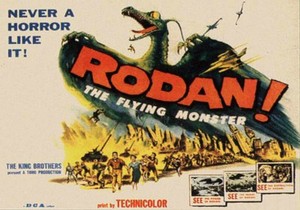 heesy monster flicks from Japan. Some of my favorites included Rodan, Gamera (turtle?), Mothra (and some teeny tiny women), The Giant Claw, and of course the 18 million versions of Godzilla vs. every other obscure monster imaginable. Most in mighty technicolor! Seriously, is there anything better than a giant moth attacking screaming people? Don't judge me.
After getting my fill of random monsters of the deep, I'd fall in love all over again with Lon Chaney, Boris Karloff, and Bela Lugosi as Werewolf, Frankenstein's Monster, and Dracula. Lon was the king. He was not only the Man of A Thousand Faces. He was the great hero of black and white monster flicks, able to conjure up the boogeyman in a variety of costumes and masks. I remember reading a book about him when I was in second or third grade and I was hooked. Seriously: this guy was AWESOME. And even better–his son, Lon Chaney Jr. continued the monster madness in movies of his own.
When I worked in kid's publishing I had the joy of working very closely with our modern day monster man, R.L. Stine, king of scary stories and father of Goosebumps. I fell in love all over again with the creepy and the crawly.
My love of this old genre of monster-tales, my relationship with Stine, are some of the things that inspired me to write my own kid series called Monster Squad featuring a creepy film director named Oswald Leery and some unique kids who try to capture the B-Monsters that have escaped from Leery's movies. I plan to bring back those stories in a new format someday soon. For now, you can find out about the original editions here and here.
There are so many monstrous things to celebrate in books and film. This time of year reminds me of them all–and of the fact that having "Stranger" kids is like the cherry on my "love of spooky tales" sundae. Not so strange at all, really.
Happy (and spooktacular*) Halloween, everyone!
*the most over-used Halloween pun, right? Seriously, stick a stake in it already. LOL.
*special thanks to the always-inspiring and amazing illustrator, animator, and TV producer Dave Schlafman for his Monster Squad art.
*and one last p.s. comment below and tell me the best-ever costume you ever wore on Halloween. Bring it!